Greenheart's Odyssey Funding Allocations & Supporters
In 2018 our Development department embarked on a new journey to support the restructured Greenheart Odyssey programs. With your help, we provided full Greenheart Odyssey scholarships to 113 youth from 32 countries around the world and 4 under-resourced Chicago neighborhoods.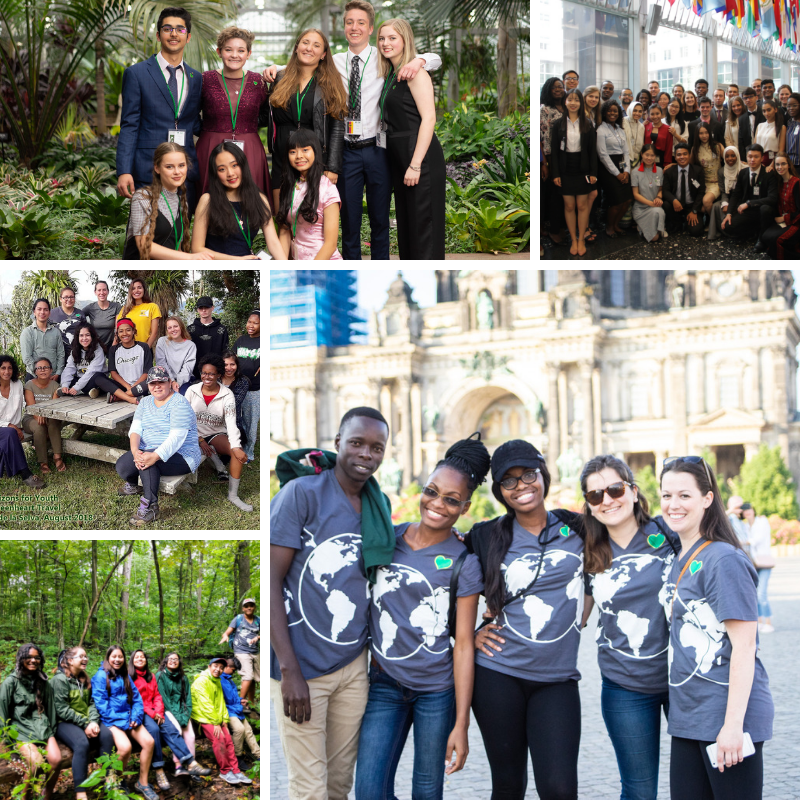 The Odyssey Scholars of 2018
One of our participants, Kirin, who now attends John Hopkin's University, asked that we pass on this message to our donors:
"It is often difficult to see the results of monetary contributions clearly and fully. My personality, aspirations, and habits were dramatically affected by Greenheart. The same is true for each of my friends. Thank you very much for the part you played, and know it is not invisible!"
We're stepping into 2019 with a sustained focused on fortifying the Greenheart Odyssey, ensuring that our under-resourced Chicago youth receive full support and inclusion. We're dedicated to program retention, building stronger relationships with our youth and community partners. We're looking to facilitate deeper connections between our donors and participants at the Greenheart Gala, Fall Fundraiser, and new Odyssey Check Point events.
We're looking forward to connecting with everyone that made our progress possible through their generous donations, and with many more that we hope will join us on this journey in the coming year. Thank you for your dedication to empowering young global leaders. Your dollars are changing the world.
Greenheart Exchange
Greenheart Exchange fully embodied the theme of Empowering Potential in 2018. Spanning all across the world, our participants utilized their opportunities and their potential to bloom into their best selves. Not only did Greenheart Exchange empower past participants with leadership opportunities during Greenheart's Global Leaders Conference, but also to be leaders in their own backyards.
Gian Morrison, a past Work and Travel participant, utilized many of the opportunities Greenheart provides. Gian started as a participant. In 2017, she won a Greenheart Impact Grant. In 2018, she went on to participate in Greenheart's first Alumni Global Council, even serving on a panel during this conference. Gian seized the chance to empower not only her potential, but her home community as well. She is currently developing her Purpose Project that will equip an elementary school in her Jamaican community with several educational resources, including a library and computer lab. She is actively paving the way to provide others with the opportunities she seized.
Greenheart Exchange was all-encompassing with its goals in 2018, and that will not falter in 2019; empowering potential does not have an expiration date! The implementation of Greenheart's new Teach-Pair-Share grant expand the opportunities for growth, collaboration, and change in 2019. With Greenheart staff and participants inspired and empowered, they are now equipped to Stand with the Environment come the new year and explore the never-ending possibilities for positive change!
Greenheart Travel
At Greenheart Travel, we believe in the power of meaningful travel to unleash one's potential. Our key goals are to provide access to impactful travel experiences to as many people as possible, and to cultivate intentional immersive experiences for the travelers on our programs. In 2018, we pursued these goals through the launch of two specific initiatives.
First, in a concerted effort to make travel more accessible and approachable for everyone, we launched our First Time Traveler initiative. Traveling abroad can be intimidating and financially challenging, and we want anyone with the inclination to travel abroad to feel like the welcome mat is rolled open to them. We truly believe that when you study, teach or volunteer abroad, you are embarking on a journey that will significantly impact your global perspective and help you reach your full potential!
Through Odyssey scholarships, we were able to send two groups of low-income Chicago youth to have their first significant travel experience in Puerto Rico. We also announced $14,000 worth of "First Time Traveler" scholarships, allowing us to make travel dreams a reality for 11 teens and adults.
The experience from the program has changed me permanently. I left as one person, who knew no one in the entire country, to making genuine friends, going on amazing excursions, making impressing discoveries – about myself, about others, about this wide world around me – and all because I chose to take the leap and just try. […] This feeling is incredible and can't be put into words. You just have to do it. Dani Churchill (Atlanta),
Recipient of the First Time Traveler Scholarship, Teach English in Thailand Program
In 2018, we also launched our Greenheart Travel Atlas. This interactive guide is available to each of our travelers and is designed to equip each traveler with the tools they need to create strong goals, immerse themselves in a new culture, and make the most of their experience abroad. This resource focuses on 3 themes: Personal & Professional Development, Cultural Understanding, and Environmental Awareness.
Through these two approaches, we hope to empower and nurture more people to have these transformative travel experiences that will help them reach their fullest potential, both while on our programs, and for the rest of their lives.
In 2019, we plan to continue our above efforts while increasing our emphasis on the environment and sustainable tourism by encouraging our travelers to engage with their host communities responsibly, and to think critically about the state of our environment and what we can do to make the world a better place.
Greenheart Shop
The work of the Greenheart Shop embodies the Greenheart mission of connecting people and planet in a profoundly simple and visible way. As the Conscious Consumer Movement gains momentum worldwide, the Greenheart Shop continues to sell ethical products, which benefit artisans in many countries by providing a living wage; therefore, helping raise the standard of living in their families and communities.
2018 was a year change for the Greenheart Shop. Our focus pivoted somewhat to a greater emphasis on our wholesale Fair Trade line, Sobremesa. With a heavy heart, we closed our brick and mortar location at the end of August, but the Greenheart Shop lives on in our retail website and various offsite locations around Chicago.
Sobremesa, our own Greenheart Fair Trade wholesale tabletop product line, experienced amazing growth this year. The product assortment expanded in several key categories—textiles and wood from Guatemala, ceramics and olivewood from Tunisia. These additional items sparked our current customers to add new products to their stores and raised our industry profile to attract new customers too. We acquired a large order from a major retailer which allowed our Guatemalan weaver to purchase a new loom and hire additional artisans to create the 2,000 tablecloths they have asked us supply. In this example and many others, we saw our business directly improving the living standard of others and fulfilling our mission to connect people and planet.