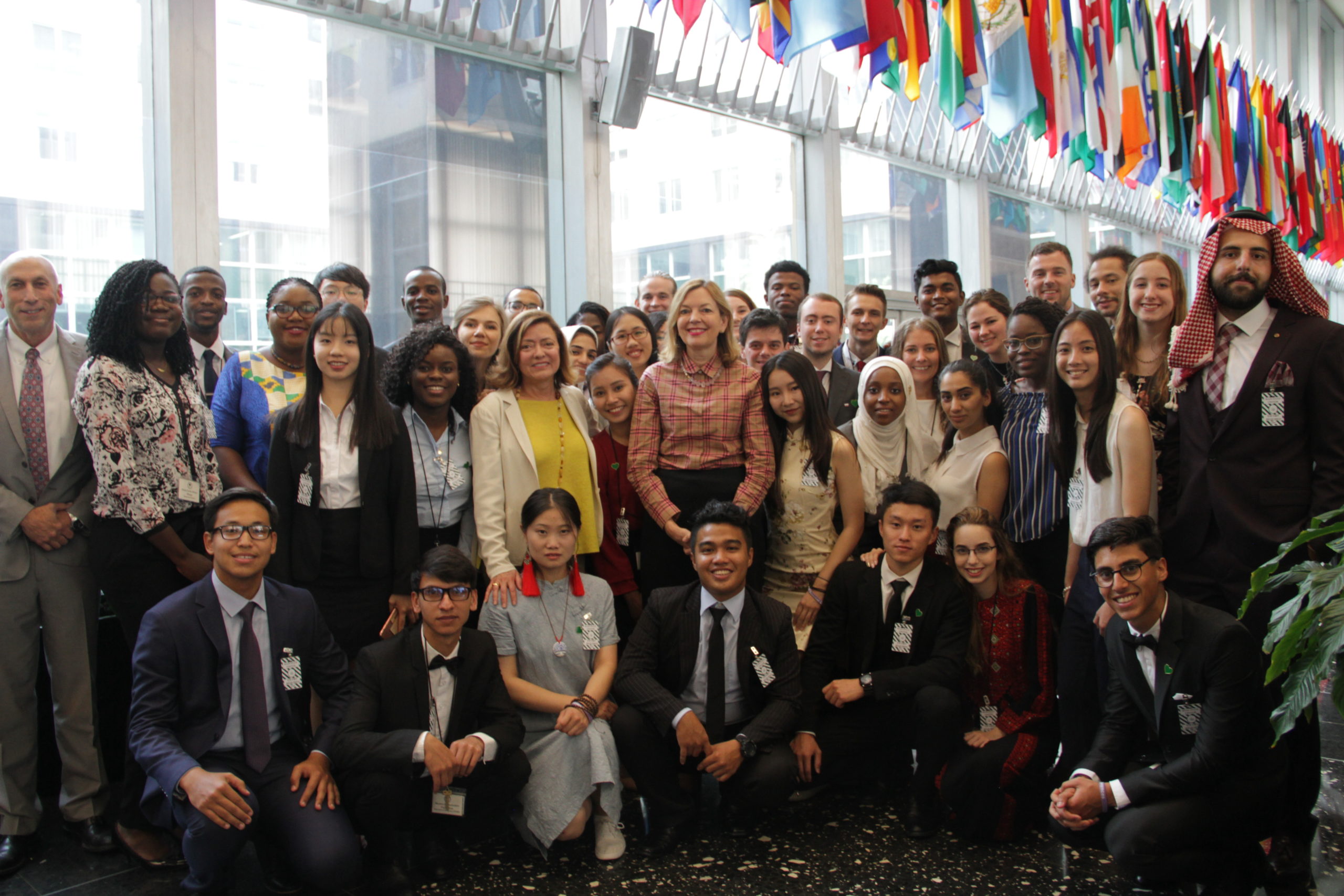 Participants at the Greenheart Global Leaders Conference with Greenheart CEO, Laura Rose, and Assistant Secretary of State, Marie Royce.
At Greenheart, we are fortunate to have some wonderful alumni. Recently, one of our former Greenheart Travel participants and Greenheart Global Leaders Conference attendees, reached out to us asking that we share her experience as a Greenheart alumna and experience with the organization, UNANIMA International. We hope this story gives you a little hope and happiness during these unprecedented times.
As a Greenheart International alumna, I was able to attend the Global Leaders Conference in Summer 2018. Though the conference was only a week, I met and came to know 40 people from 20 countries! I think it is a fairly natural result of cultural exchange (cultivated by the Greenheart International model) to become diplomatic, reflective, and curious about the world. United in these qualities, myself and the other attendees have stayed connected and have supported each other's various achievements and work, much of which holds benefit for greater society!
I, myself, was really motivated by cultural exchange to pursue peace through diplomacy. I now work in civil society at the United Nations with UNANIMA International, specifically as a Research Fellow for Family Homelessness, Displacement and Trauma and in political representation of these issues, in particular through advocacy and education.
In the wake of COVID-19, an unfortunate but clear demonstration of the world's interconnectedness, the reality of increasing and varying circumstances of Family Homelessness around the world was reinforced. As it is the International Day of Families, I find it appropriate to share how the Greenheart Family helped UNANIMA International to translate our official statement on COVID-19 and Family Homelessness – increasing the statement's and research's exposure, while translating in itself proved to be an act of peace and solidarity.
The statement was translated into 3 languages by Greenheart Alumni: Chinese (Vincent Junyu Wang), Bengla (Zakaria Abden), and Russian (Juliya Grabenko).
Having the statement available in more languages serves to show our awareness and representation of many groups and peoples around the world, and we certainly wish we could have it available in every language!
You can find the statement in the aforementioned languages, the original English, and French and Portuguese below – as well as me fully reading the statement on YouTube. We hope you will find them valuable and that collectively we can use the current crisis as an opportunity to pursue the right actions for all people, putting their rights, dignity, and lives first.
View and/or listen to the statement on YouTube in English or Spanish.
The statement can also be viewed online in various languages at the below links:
English – https://mcusercontent.com/8bb6ca603b91a37b4012a341d/files/be6fee3a-893f-4638-9370-41dc86001e78/UNANIMA_International_Statement_on_COVID_19_and_Family_Homelessness_English_.pdf
French – https://mcusercontent.com/8bb6ca603b91a37b4012a341d/files/ecbbf537-de2f-4beb-904c-73e2a7f78a29/UNANIMA_International_COVID_19_Statement_French_.01.pdf
Spanish- https://mcusercontent.com/8bb6ca603b91a37b4012a341d/files/77e3e78d-e3f8-48dd-ba1e-ac2d18dc3ab1/Statement_on_COVID_19_Spanish_1_3_1_.pdf
Bengla – https://mcusercontent.com/8bb6ca603b91a37b4012a341d/files/c7898908-c8ab-4413-878f-c86cdc346811/Bengali_Translation_merged.pdf
Russian – https://unanima-international.org/wp-content/uploads/2020/05/Russian-Final-Draft-Statement-on-covid-19-1.pdf
Chinese – https://mcusercontent.com/8bb6ca603b91a37b4012a341d/files/56db75c6-c2b0-456a-87ed-0f048b60bbec/关于COVID_19新型冠状病毒和无家可归者的声明.pdf
For more information about UNANIMA International visit unanima-international.org.
You can also access our recent publications:
Family Homelessness through the Lens of the United Nations 2030 Agenda,
Hidden Faces of Homelessness: International Research on Families
and The Impact of Personal & Family Circumstances on Homelessness.
To make inputs on Family Homelessness in your region, nation, or community, or to volunteer for future translation needs, contact researchfellow@unanima-international.org
Peace,
​Kirin R. Taylor
Research Fellow, UNANIMA International
+1 (240) 601-0652 | researchfellow@unanima-international.org