Almost daily, we see increasingly terrifying news shedding light on the immediacy of the climate crisis. As Greenheart's youngest demographic of participants, high school programs students, start to arrive for the upcoming academic year programs, it feels like a perfect time to draw attention to youth-led movements for change in our human role in the environment. In a 2008 UN survey only 9% of youth stated they were very confident the world would act quickly enough to address climate change.
Ten years later, youth-led movements are at the forefront of the global fight against climate change. Organizations like the Sunrise Movement, Zero Hour, and Our Children's Trust are pursuing strategies from protest and direct action to federal lawsuits to advocate for action on the environment. The School Strike for Climate movement, inspired by Swedish youth activist Greta Thunberg, is gathering momentum with strikes being planned by young people around the world culminating with planned global actions in September 2019.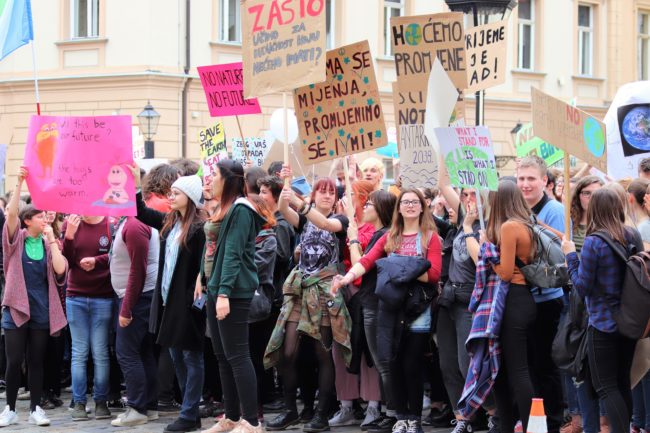 Young people have made it increasingly clear that they feel the burden of climate change more directly than their elders because the projected impacts will eventually be theirs to bear. It is important to take youth voices seriously in the fight for action on the environment – and time that their elders followed their lead.
Take a Stand
This month's suggested actions offer options for being an ally to the youth-led climate change action movement.
Personal Action: Follow @unitedforthechange on Instagram. This environmentally focused account is run by Jr. GGLC-er and High School Programs alumna from Spain, Paula. This is a great opportunity to see this issue through the eyes of a young person who has taken steps to speak out on this issue. Seek out other youth voices on the environment and listen carefully to what they are saying.
Collective Action: Refer to this article for tips on how to be an effective ally for youth-led environmental movements. If you are interested in helping the Sustainability Team create a plan for Greenheart's observation of the global days of climate action planned for September 20-27, please comment below!
Greenheart Office Action: Many of Greenheart's participants are young people. If you work directly with participants, take some time to educate yourself on the particular environmental challenges students in the regions you work with are facing. Or, consider reading this report from the American Psychological Association which outlines the potential mental health impacts of climate change.
Eager to share YOUR stand with the environment? Log your volunteer hours in the Greenheart Club and share your environmental actions with us on both Facebook and Instagram.