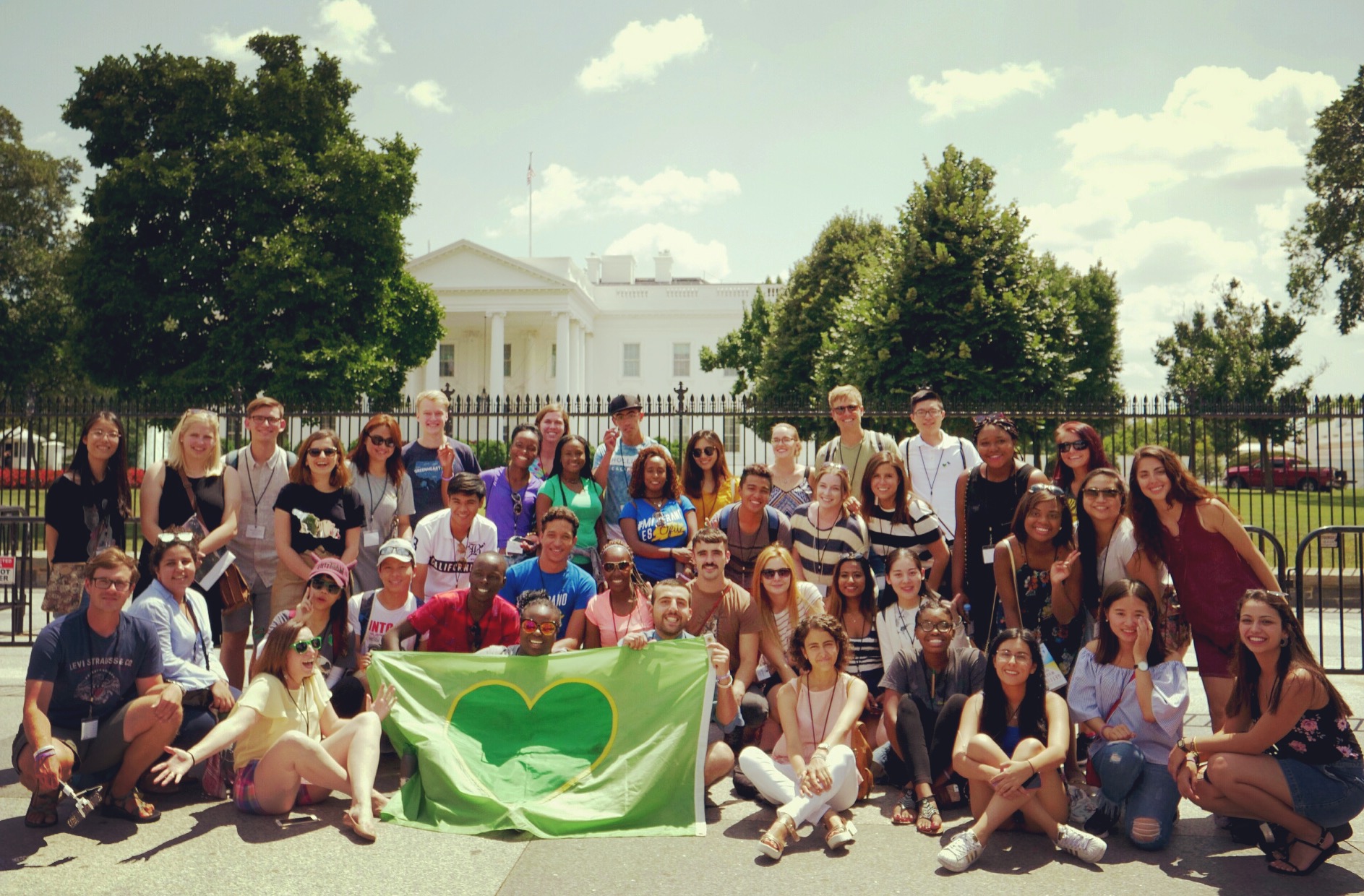 What is the Greenheart Global Leaders Conference (GGLC)?The conference welcomes Greenheart participants and alumni from around the world for a true cross-cultural experience in Washington, D.C. involving volunteerism, professional networking, personal development, and leadership training.
Who were our leaders? 37 alumni from our CCI Greenheart and Greenheart Travel branches
Who did they represent? China, Jordan, Dominican Republic, Ecuador, USA, Jamaica, Georgia, Tunisia, South Korea, Ireland, Australia, Spain, Poland, Philippines, Uganda, Thailand, Moldova, Ghana, Romania, Germany
That's 37 Global Leaders from 20 countries!
How about some highlights?
Site visits to: Department of State: Bureau of Educational and Cultural Affairs, The Sierra Club, Sustainable DC, World Bank, Impact Hub, 10,000 Villages, Martha's Outfitters, Holocaust Museum, Little Friends for Peace, SOME (So Others May Eat)
Leadership workshop with Jerry White, co-recipient of the Nobel Peace Prize and co-founder of Survivor Corps, created by and for survivors to help victims of war rebuild their lives.

The GGLC experience: From start to finish
A very honest letter from a J-1 Work and Travel Summer 2016 & 2017 participant, Anas Alatawneh of Jordan:
These were the best five days in my whole life! Why and because of what?
My story started in July 2016 when I became a Summer Work & Travel participant with CCI Greenheart. I emailed Nicole McCarthy (Service Learning and Outreach Manager, Greenheart International), who is a Greenheart facilitator, about my tough one month experience in my job. Not surprisingly she helped me out when no one did. Nicole and I became really good associates. Since then we kept in touch even when I got back home.
In the beginning of 2017 Nicole sent me a message:
"I wanted to write to you because I think you would be a great candidate for the Greenheart Global Leaders Conference this summer! I encourage you to apply."
I said to myself, "aah this sounds so boring!" When I opened the application link and I saw all the questions I said, "this is definitely boring." So I replied to Nicole: "Well that sounds interesting!" (Yes, I lied) I will check it out." (I lied again.)
After around two months, I sent a message to Nicole about two of my American friends who were coming to Jordan. In that moment I saw that message about GGLC and realized I had completely forgotten about it! I said to myself, "Anas, open the form link," which I did. It took so long to type up the application, but eventually I did it.
After another two months, I received an email telling me that I had been accepted to attend the GGLC! I was like, "GGLC? What the heck is this?" I completely forgot about it, again. To be honest I was hesitant to attend. "Why should I go and spend my time and my money?" I asked myself. At the same time, I received an email which detailed my flight information. I was like, "Aaah they booked the flight ticket! Now you have to attend it, Anas! Okay, it's just 5 days. Pretend that it's a vacation!"
July 30th arrived and I flew to Washington D.C. I had no clue what I was in for. I arrived at The George Washington University, where we were staying, and began looking for Nicole. I thought to myself, "Where is Nicole? I want to meet Nicole!" Then suddenly, here she is! Coming to me saying, "Anaaaas!" Finally we met! She was above my expectations. She AMAZED me!
From the first minute I arrived I recognized that all my thoughts were completely wrong. Those five days were not boring at all; actually those five days changed my life and my goals in it! It changed my perspectives about a lot of people, countries, cultures, and religions. It changed me to become a global leader.
Now I have friends from China, Thailand, Spain, Georgia, Germany, Romania, Jamaica, Korea, Uganda, the Philippines, and more! And I will visit them all in their countries.
Everyone, thank you so much for being a part of those five days. Thank you for being the reason to change my life. Thank you all, GLOBAL LEADERS!
I flew back to Colorado and spent all the flight time thinking of why! Why do we have to leave the amazing and brilliant people we got to know during the GGLC? They became my friends! Everyone is now in different spots in this world! I miss all of them! I miss all the facilitators! I miss my roommates! I miss the cafeteria, dinner, Thurston Hall, the security guards! I miss every single thing that happened to me there, just because all of you were a part of these things!
Finally, as you changed me, I will try to change my country! This is simply my commitment to myself.
All the 36 global leaders: thank you all from the deepest part of my heart. I believe that you will make this world better.
– Anas Alatawneh-Jordan
#GGLC2017 #Greenheart #Leaders #Friends
A note from the editor: Stay tuned for an engaging, new and improved GGLC application in 2018. We hear you loud and clear, Anas. 
Are you a part of the Greenhert alumni community? Stay up-to-date with all our leadership opportunities by visiting greenheart.org, becoming a member of the Greenheart Club, and following us on Facebook and Instagram.