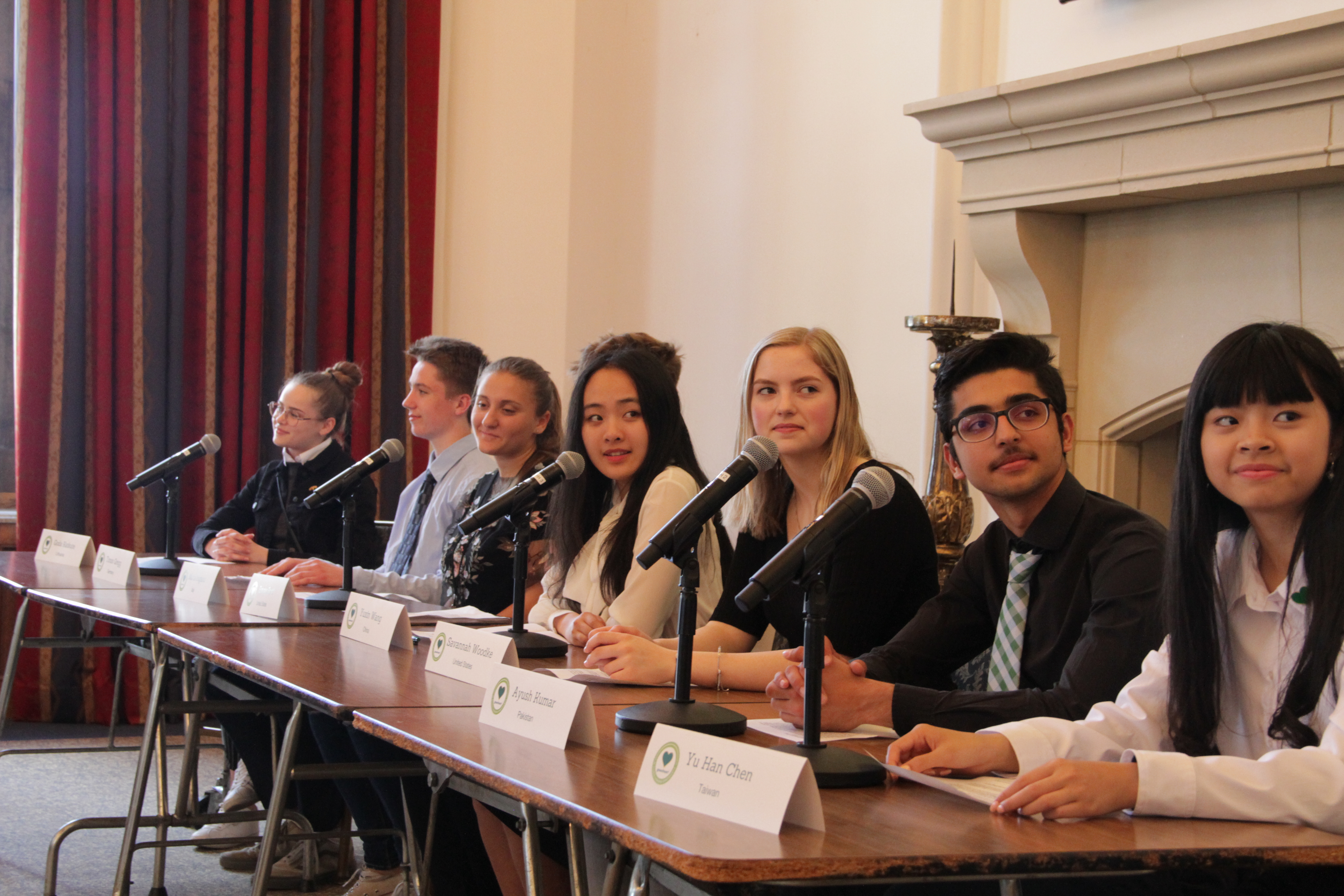 The 4th annual Greenheart Global Leaders Conference kicks off this Sunday! Thirty-eight participants from 21 countries are packing their bags and gearing up to embark on a week of leadership development in Washington, D.C. Our initiatives encourage participants to turn their international experience into a mission-driven life and career. Want to know what it looks like to lead with purpose? Keep an eye on our blog and share in the thoughts of a few of our selected leaders!

Claudia Camila Boriz
18 years old
Home Country: Ecuador
Short-Term Programs– Greenheart English Camp in New York, 2015
"I consider imperative, as a world citizen, that I must cross borders and start working with people from around the world. Apart from this, I believe that I can contribute in making new solutions and helping other. I am studying law and later I want to get specialized in human rights. Therefore, I recognize the importance of participating in summits where ideas that come from different backgrounds emerge. By doing so we are able to improve not only our way of conceiving other cultures, but also our tolerance and understanding. With these two important values we will be able to recognize that there are problems that affects all of us, and start realizing that when human rights are in danger our whole society is in danger. I deeply believe that this conference will grant me the opportunity to give a voice to Ecuador and also to hear other voices and bring their concerns to Ecuador. In that way, I will ratify my commitment to human rights and also with my country. Furthermore, this conference will be the perfect opportunity to explore innovation and more important, to meet people whose commitments to world´s issues is as strong as mine.
A Global Leader is someone who is conscious that there are a lot of problems that go beyond the borders of his/her country, and to reduce them s/he must be involved in spreading world values and understanding. Working in their home community is fundamental, because it is a way of giving a voice to these universal values, promoting a universal citizenship. Doing so, s/he will contribute in eradicating these wrong ideas that make us believe that other nation's problems is not our problem. A Global leader must consider himself/herself a defender of human rights, must believe in democracy, liberty, and freedom. A Global Leader must be ready to contribute with new ideas, and to defend what is right. But must important, must be ready to give a voice to those people who don't have a voice. Furthermore, a global leader must be ready to take action, to give ideas and must have passion in what they do."
Andrea Matesanz Morales
Home Country: Spain
Short-Term Programs– Greenheart English Camp in Healdsburg, California, 2016
"Global leaders are a group of exceptional people who have unique qualities. These people have in common a passion for trying to make things better. Their aim is to improve an aspect of people's lives or simply make a positive impact on their surroundings. In order to achieve this, they address a certain group of people that want to participate in this process. A global leader is someone capable of making important decisions while listening to those around him/her. In my opinion, this is one of the most important features of a global leader. They have an idea of what they want to achieve but they're willing to listen to what people have to say. They must have a sense of initiative and also the creativity to work around difficulties along the way. In addition, I think that a global leader has the important role of bringing people together, as the word "global" indicates. Lastly, a real global leader knows how to never give up, to fight for what they believe in, to carry on, and are able to transmit this willpower to others.
Last year, when I attended Greenheart summer camp I got to engage with people from all around the world and I realized that working in an international environment is what I really desire. I want to learn from others that may have a lot to teach me. This is a wonderful opportunity to exchange ideas and share knowledge on interesting topics. I can't think of a better way to truly explore Washington, D.C. and get in contact with people that have the same ambitions of opening up to the world as I have. I hope to create a global network of trust and reliability that connects individuals from different continents."
Are you a part of the Greenhert alumni community? Stay up-to-date with all our leadership opportunities by visiting greenheart.org, becoming a member of the Greenheart Club, and following us on Facebook and Instagram.