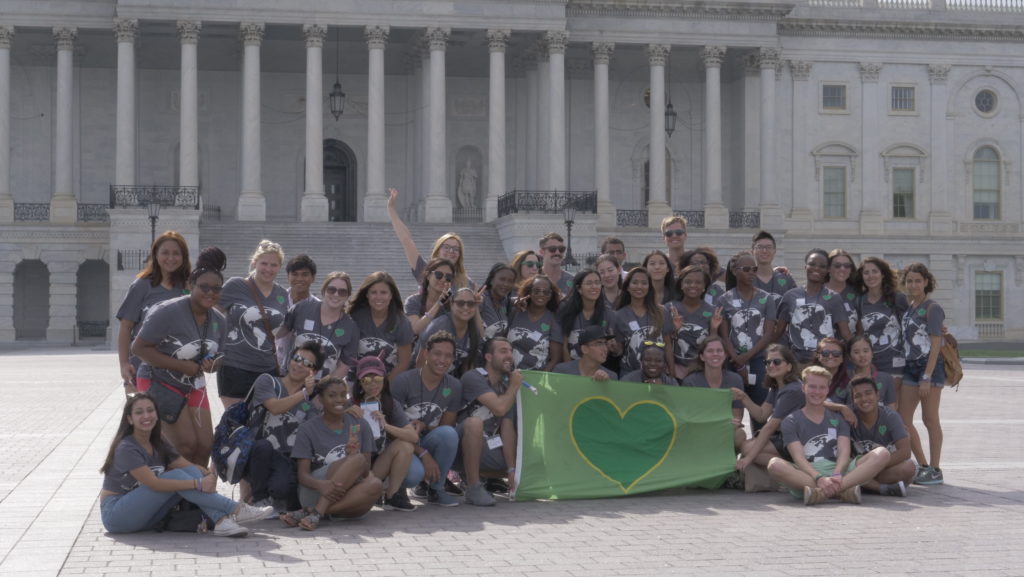 Are you a Greenheart alumni? Greenheart International offers incredible alumni opportunities for professional development and leadership training. Your Greenheart journey doesn't end at the end of your exchange; it's just the beginning! You are a unique part of the Greenheart family now, which means we want to support you along your path to success. Earlier this week we heard from J-1 Work and Travel alumnus, Anas Alatawneh, about his Greenheart Global Leaders Conference experience. Read along as a few more participants share their conference highlights. Will you be joining us in Washington next year for the 2018 Greenheart Global Leaders Conference?

Camila Boriz
Home Country: Ecuador
Short-Term Programs– Greenheart English Camp in New York, 2015
The 2017 Greenheart Global Leaders Conference was definitely the best part of my year so far.
There were 37 participants from 20 different countries, all together in Washington D.C. and I was one of them. My name is Camila Boriz, I am a law student from Ecuador and was part of the Social Justice Track during the conference.
One of our site visits was at Little Friends for Peace. This is an organization that focuses on spreading peace around the world. They help you become a peace-builder and a peace-maker. There we had the opportunity to do a workshop with two amazing girls: Kirin and Kelsey. They introduced the concept of peace circles and also talked about the best way to have balance in your life.
The peace circle was a touching experience. We all opened ourselves up and felt safe to express our deepest motivations and fears. We talked about what brings us peace and also what is peace for us. I believe that peace circles should be a daily practice in schools. A moment where you can feel free to be yourself, where no one is judging you.
Then we drew a circle and divided it into six parts. Each one represents a part of you. Such as your mind, your spirit, your body, your social life, your work, etc. We finally concluded that if we want to give 100% of ourselves to the world we must be good in all the aspects of our life. If we want to spread peace, we must be in peace with ourselves.

Sailas Okwairwoth
Home Country: Uganda
J-1 Intern & Trainee, 2015
I was greatly inspired by all those who attended the conference. Though I have had experiences and interactions from the previous GGLCs I attended, this year's conference further enriched my understanding of global disparities and diversity, thus have greatly inspired me to take up more affirmative actions targeted at fighting obstacles to achieving world peace.
My name is Sailas Okwairwoth. I am proud to be a citizen of the global Southern Continent, Africa, born and raised in the East in a small town, Pakwach, in Northern Uganda. Each time I go and reach out to the world I seek peace, justice, harmony, equity, and equality. I acknowledge that all these are achievable through building capacities and empowering all to take up collective responsibilities towards their development and well-being. I serve with passion, lead with purpose, and am driven by my mission, vision, and goals in life. I commit to impact change locally and internationally and to support interventions aimed at achieving global development.
My favorite memory is when I was chosen from the Environmental Sustainability learning track as one of the six representatives (speakers) at the Department of State: Bureau of Educational and Cultural Affairs. I was to elaborate about my cultural exchange experience, its meaning, and relevance to communities I seek to serve. I take this as a special opportunity and treasure, not only to myself, but also to the global leaders and participants who were touched by the contents of my speech. I inspired, motivated, and reached out to the world's great leaders and enlightened them more about justice, culture, policies, the environment, and other related topics. The opportunity also was a professional event, highly educative, informative, and lifted me higher as an inspirational icon. It also enabled me to practice my public speaking skills and meet more incredible citizens passionate about making the world a better place.
Xiaolu (Tiffany) Cheng
Home Country: China
J-1 Work and Travel -Summer, 2017
This photo was taken in front of the capitol center with a group of global leaders during the Conference. We went to the capitol and learned more about the history and politics of the USA on that day. That was the last day during the Conference which means we had to say goodbye to each other the day after. As we were getting to know more about each other, we felt closer to each and every global leader. Saying goodbye is the last thing we wanted to do. We took photos in front of the capitol to remember that precious moment and to have our smile and friendship stay forever.
Sandy Joseph
Home Country: USA
Greenheart Travel – Teach Abroad, 2017 
When I received the e-mail that I was accepted to the GGLC conference in Washington, D.C., I was so excited I could not stop screaming. My excitement stemmed mainly from the fact that I knew I would benefit a great deal from this conference. And frankly, because it was competitive, it gave me a sense of importance and self-assurance. I knew I would learn a lot, but I did not expect the instant connections, the comfort I felt with strangers I had just met, and the tears before we returned to our normal lives.
I promised myself going into this conference that I would make a genuine effort to speak to everyone no matter how brief the conversations were and so I did. I spoke to all 36 participants and enjoyed the conversations and getting to know everyone even in the smallest ways. I loved when we bowled together; it was a great way to genuinely get to know each other without playing twenty questions and it allowed us to see the fun versions of ourselves very early on. I also enjoyed volunteering with my track, International Mission-Driven Business, at Martha's outfitters and connecting with my track members from China and South Korea over food we loved. It was a friendly reminder that you can be from across the world, from completely different cultures, but have the simplest things in common, like food.
Although I am outspoken by nature, I do tend to shy away from meeting new people, and usually I do not speak unless I am spoken to. I'm happy I took the initiative to talk to my fellow leaders because it removed any pre-judgement I could have had and it made space for genuine connections. I felt I was stepping into my leader persona because a leader is not a fly on the wall. Rather, a leader is engaging, interactive and embodies multicultural understanding. I appreciated learning about myself through these interactions and the effort I made to get there. Jerry White's presentation was the perfect contribution to my leadership journey when we did the exercise about influential people we admire. I chose Michelle Obama and the three characteristics I used to describe her were intelligence, grace, and class. When Jerry said these were a projection of how we subconsciously perceived ourselves, or at least how we aspire to be, it rang so true.
A leader first has to learn about his or herself before leading others, and I am so happy I made the decision to attend the GGLC because I was already applying what we were being taught. It created a space for us to learn about ourselves and make genuine human connections. This is the most humane conference I have attended and I know my other leaders will definitely agree!
Are you a part of the Greenhert alumni community? Stay up-to-date with all our leadership opportunities by visiting greenheart.org, becoming a member of the Greenheart Club, and following us on Facebook and Instagram.