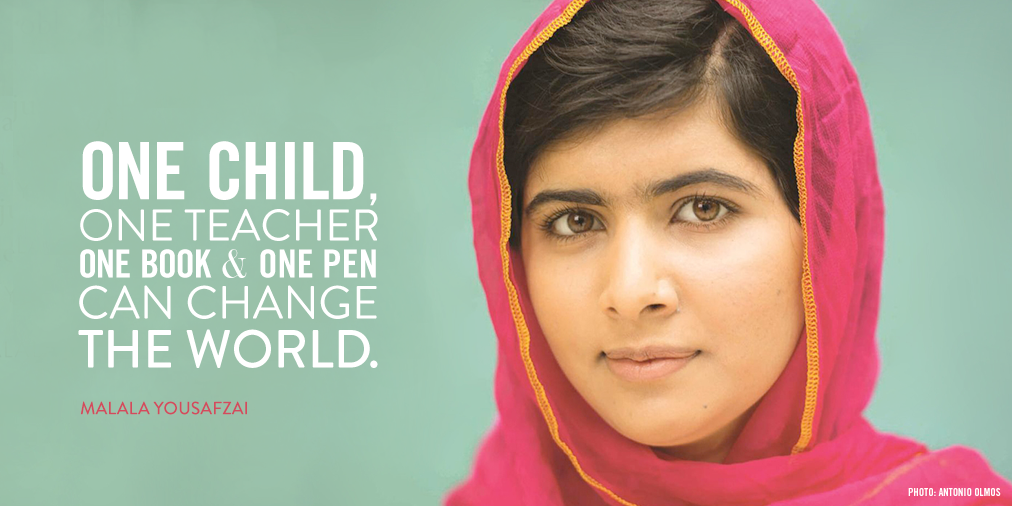 By Kelsey Holmes, Greenheart Club Intern
"One child, one teacher, one book, one pen can change the world. Education is the only solution. Education first."
There are many people who are advocates for education around the world. Education is vital in promoting growth and development, and essential in ensuring equality. Perhaps one of the most notable activists for equality in education is Malala Yousafzai. Malala is the youngest person ever to win the Nobel Peace Prize and has become well known in the international community for her diary about life under Taliban rule.
Since then, she has become a voice for education and equality for all around the world. Named on of Time Magazine's most influential people in 2013, Malala has given a voice to so many who previously had none. She has and continues to raise awareness on issues like gender equality in education and empowerment for women everywhere.
Facing incredible odds, Malala overcame great obstacles to get where she is today. She is an example for students everywhere and through her work; issues of inequality and access to education have been highlighted and addressed. Education is a right for individuals everywhere, and it is so important to have strong leaders like Malala to remind the global community how wide of an impact even one person can have. Malala is still a teenager, and she is not alone in the thousands of young people working to make the world a better place.
The Greenheart community is full of participants who shine brightly just like Malala, and who come together to promote cultural understanding, knowledge and peace. How are you a catalyst for change in your community?