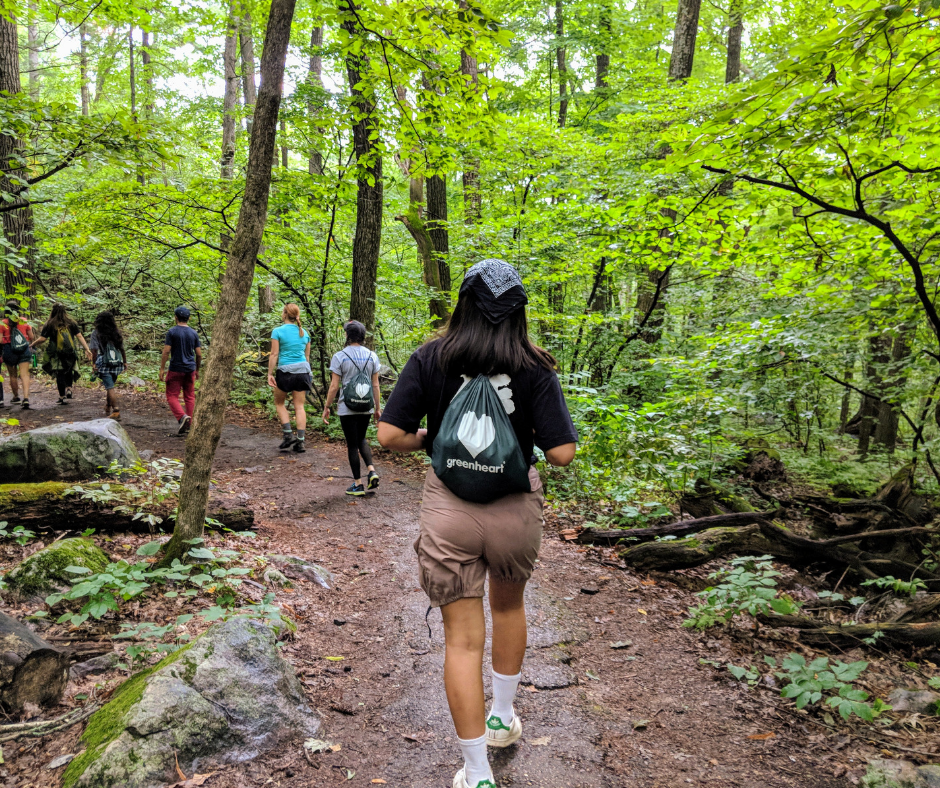 "Don't be pushed by your problems. Be led by your dreams."
– Ralph Waldo Emerson
As we pack our bags, we carry with us a very full and joyful heart from the summer season at Camp Greenheart! We are pleased to announce that our last official camp of the year has come to an end with many new friends and incredible memories!
With a helpful hand from our non-for-profit partners, Chicago Voyagers, we were able to enjoy our final Camp Greenheart with Centro Romero students, an organization that provides social development and growth opportunities to Chicago's refugee and immigrant population.
It's been a very rewarding experience for both campers and staff alike and we are thrilled to share a bit of their reflections with you from their most favorite moments at Camp Greenheart.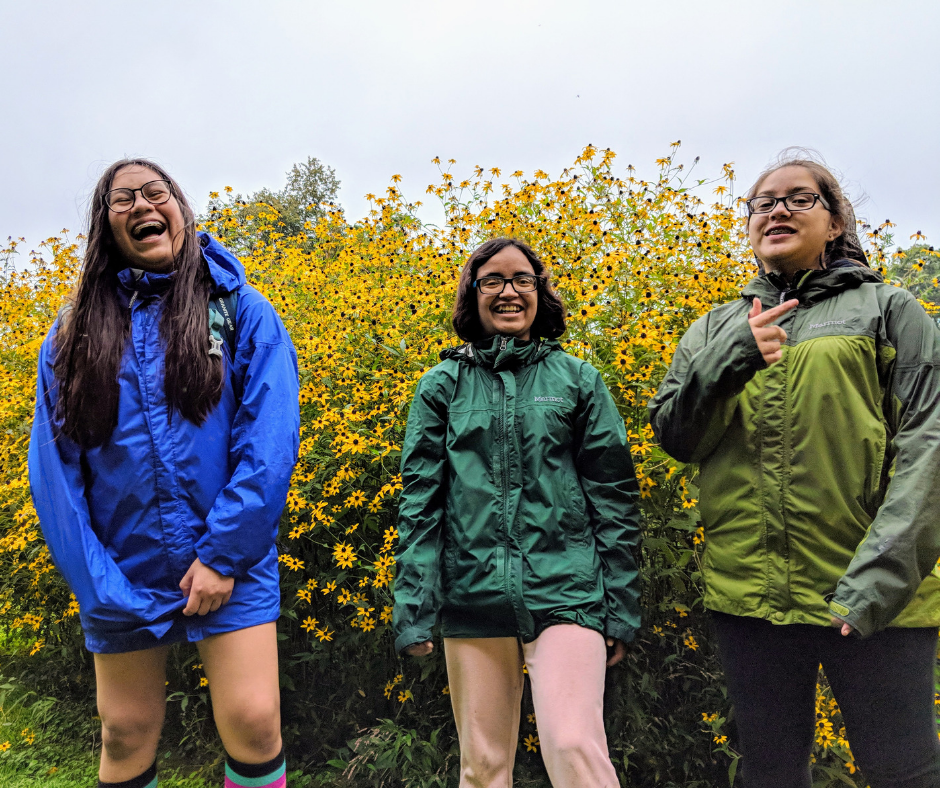 Rocio Ortega
Outreach & Communications Coordinator
Greenheart International
"As a Chicago native, Camp Greenheart is an initiative that is very near and dear to my heart," says Rocio. "It was incredibly inspiring to witness the growth of our young campers from day one to our final day of camp."
Navigating through it all:
"Each day, our youth were empowered to step into a leadership role. Campers were able to lead the group on hikes and use the maps on site to navigate us through the many trails," says Rocio. "Other roles included having a point person to ensure everyone was staying hydrated and prep teams for breakfast, lunch, and dinner."
Favorite Camp Memory:
"One of my favorite moments was the last night sitting around the campfire," says Rocio. Campers were asked to:
Reflect on how they see the world around them.
Determine what change they would like to see in the world.
Consider one action they can take right now to contribute to that change.
I was impressed by the scope of their responses and the maturity they displayed through their thoughts."
Highlights:
"One camper, Alisha, said that she wanted to help alleviate some of the violence in her community and the world. She also wishes to confront bullying and mental health issues in her school by attempting to build relationships and understand those who are acting out.
Another camper, Adriana, said that she wanted to make more of an effort to live sustainably and be more involved with community engagement projects. She is a student council member and recognizes that she has the power to speak out as an advocate and create change for her student body.
Overall, it was powerful to witness these huge, compassionate ideas come from young minds," says Rocio. "It reminds me of the potential our youth have; especially those who have been historically overlooked or marginalized. All these youth need is someone there to listen, empower them and guide them along the way."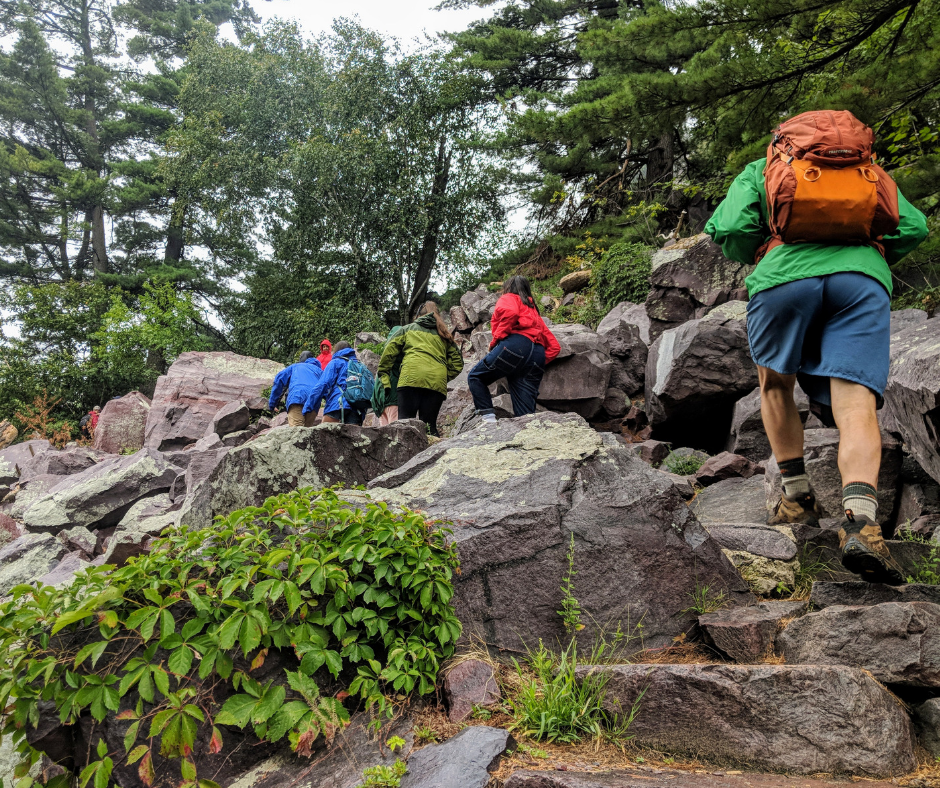 Julia Rabin
Cultural Outreach Coordinator
Greenheart Professional Exchange Programs
The Beginning of a Wonderful Journey:
"I loved spending time with our campers and watching them grow throughout camp! On our drive up to camp, our campers were pretty silent, and seemed a little unsure about what they had gotten themselves into," says Julia. "However, with every passing day, campers got increasingly more comfortable and came out of their shells!"
Highlights:
"One of the most amazing things to see was our campers taking on the 'Balanced Rock' trail on our second day at camp. It was our second hike of the day, and it had been rainy and wet all morning. Everyone was feeling a little chilly, wet, and heading towards the trail looked pretty daunting! This trail looked steep, had a lot of rocks, and was a little slippery, since we were climbing rocks our whole way up."
Julia continues, "before we began the hike, participants were very nervous about whether they'd even be able to make it to the top. We took the hike slowly, took plenty of breaks to stop and rest, and our group leader's for the day made sure to give everyone a hand throughout the climb. Once we got to the top, the campers were so excited that they had made it! We sat at the top for a half hour, talking and coming up with extravagant stories about how the rock known as 'Balanced Rock' had gotten there."
Overcoming Doubts & Fears:
"The next day, we embarked on a new hike around Devil's Lake!" says Julia. "The first leg of it included the 'Balanced Rock' trail from the previous day. It was amazing to see our campers take it on, knowing it was a treacherous trail they had already conquered! Our group scampered up the trail and took half as many breaks as we did yesterday. It was amazing to see how easy it was the second time around and how much they had grown in realizing their own potential and abilities!"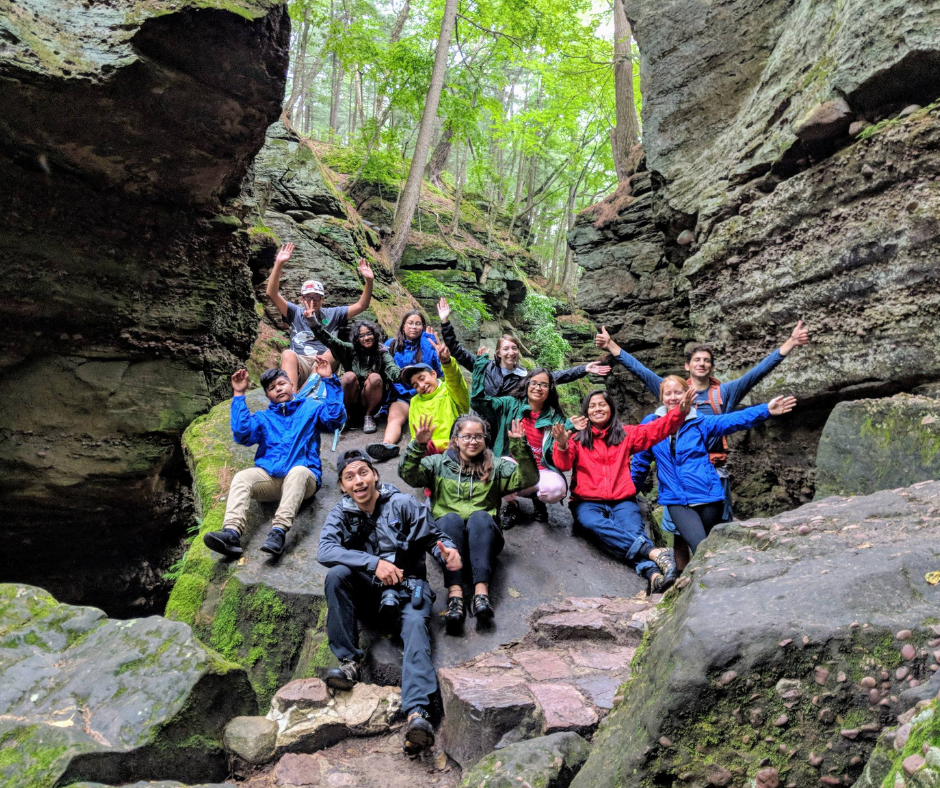 Alejandro Sanchez
Videographer
Greenheart International
Breaking the Boundaries:
"Camp was a fulfilling experience. It was incredible seeing how much these campers grew in a matter of days," says Alejandro.
"One of my Camp highlights was the day we hiked a waterfall trail. It was a beautiful trail that took us through trees, rocks, and bodies of water. There were a few instances where we had to cross a small river and although we were wearing water shoes, I saw campers taking cautious moves to step on stones and not get wet. We had no technology with us, so getting wet was not a big deal, I reminded them humans are water-proof, and to focus more on enjoying the experience freely.
Without hesitation, on our way back some of the campers were freely stepping into the water, breaking self-imposed limitations and truly enjoying the hike," says Alejandro.
"Personally, doing such a minor thing made me feel so much freedom and seeing it reflected in these campers filled me with happiness."
Kaitlyn Peters
Employee Services Coordinator
Greenheart Work & Travel
"The highlight of my camp experience was meeting all the campers, learning about their lives and passions, and watching them conquer so many challenging and unfamiliar situations!" says Kaitlyn.
Reward for the Brave:
"There was no trail too steep, no bathroom too smelly, and no weather too rainy to dampen their spirits and motivation. My favorite memory from camp was our second day of hiking," says Kaitlyn. "Most of the campers had never been on a hiking trip and the weather on this day was cold and damp, making the rocks slippery and the trail muddy. Some campers were visibly frightened by the conditions but were able to work through their fear and complete the entire hike. We scrambled up a sheer rock face and trekked down a river to be rewarded with views of the river valley, a waterfall, and a great sense of accomplishment." Kaitlyn concludes, "The hike was a perfect example for the campers of how facing your fears and taking risks can be so fulfilling."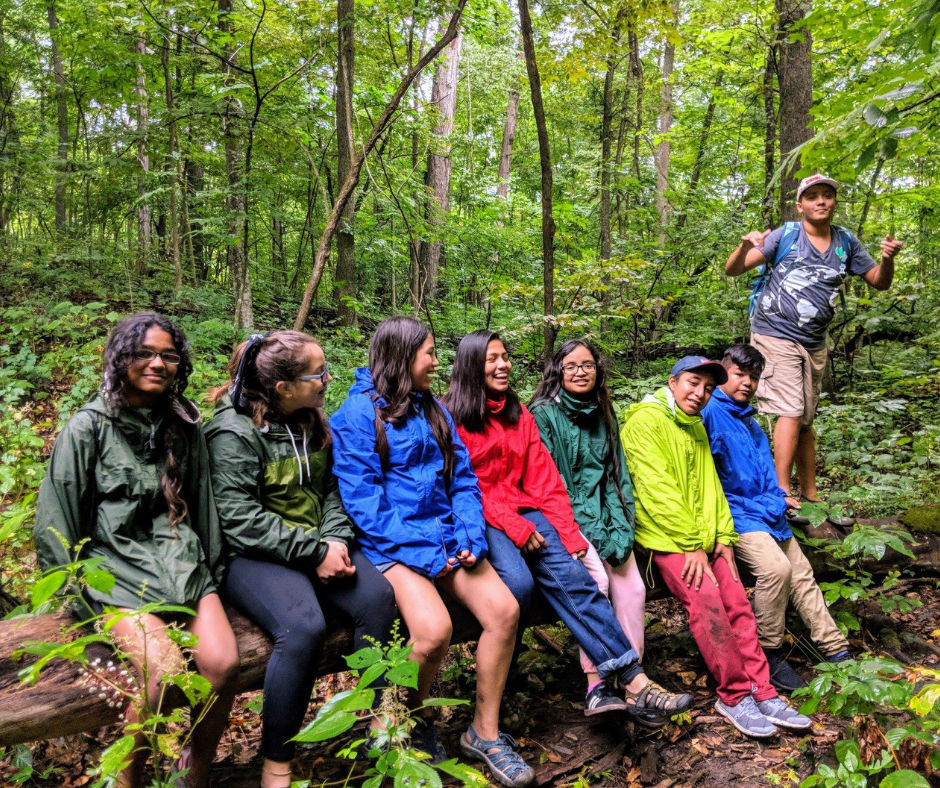 Farihah Khandaker
Systems Manager
Greenheart International
"There were so many wonderful moments during Camp Greenheart," says Farihah. "It was a delight getting to know the campers and being in the great outdoors. For some of the campers, this was their first time doing a trip like this. It was also my first time camping! I've grown up in Chicago and have had the privilege of traveling so many places around the world but I'd never gone on a camping trip."
Highlights:
"While there were some aspects of camping that I didn't love (like the bugs), I was blown away by how everyone would work together as a team in order to accomplish goals like setting up our tents, making meals, hiking across river beds or up rocky trails." Farihah mentions, "It was rejuvenating being outside and taking a mindful moment to appreciate the sounds of the forest or to take in a beautiful vista that we had to hike up to see."
"As a first-time camper, there were also moments where I felt uncertain, and the others in my group gave me courage. They would help me cross slippery rocks, cheer me on when I tried something new, share their s'mores techniques, laugh at my bad jokes and come sit next to me when we shared spooky stories around the campfire."
Farihah's Advice to You:
"Keep an open mind!" says Farihah. "Even if something seems daunting, there is a great sense of accomplishment when you conquer those fears. Just focus on taking things one step at a time, take heart in the fact that you're not on this journey alone, and stop to take it all in along the way."
There's always room to discover! For further information on Camp Greenheart, please be sure to check out our assortment of this summer's Camp Greenheart 2018 blogs as well as our Facebook and Instagram page!