April is not over yet, but it has already been a busy month for cultural exchange advocacy! During Exchange Week in the District (April 15-19), Greenheart helped organize 5 congressional meetings in Wisconsin and Illinois, 3 of which were led by Greenheart staff.
Exchange Week in the District is all about impact at the community level, so we were thrilled to have representatives from our wonderful host organizations, host families, local coordinators, and even a visitor's bureau participate in these meetings! At my meetings in Illinois with Senator Tammy Duckworth's office (photo above) and Congressman Danny Davis, I was also joined by other local organizations that are passionate about cultural exchange, including Hosteling International USA, the Illinois State Board of Education, Spirit Cultural Exchange, and WorldChicago.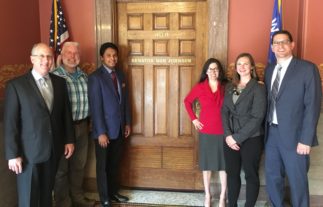 Adra (on the right, in the middle) led a meeting with Wisconsin Senator Ron Johnson's office and had this to say about her experience:
"I once felt daunted to make asks of my representatives, but asking for support of cultural exchange programming is easy. Surprisingly, each representative I met shared their own personal cultural exchange story during our meetings, and how it touched and shaped their lives in a positive way. For anyone who has not participated in making these asks, I highly recommend it, whether through letter writing, phone calls or face to face meetings."
While Exchange Week in the District certainly kept us busy, it wasn't our only cultural exchange advocacy event this April. A week earlier, on April 9th, Greenheart participated in the International Association of Amusement Parks and Attractions' (IAAPA) U.S. Advocacy Day.
Similar to the Alliance for International Exchange's Advocacy Day that I participated in last month, IAAPA's Advocacy Day brought its members together to meet with over 65 congressional offices. One of the key things that they spoke of was the Summer Work Travel program, which many IAAPA members participate in as hosts.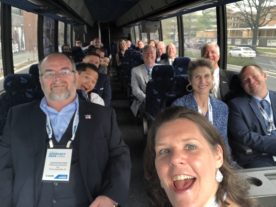 Greenheart's Renee Clarke (front and center above) had an amazing time at her 2nd IAAPA Advocacy Day. Here's what she shared when she returned from Washington, DC:
"What I loved most about going to 'the Hill' was connecting with other IAAPA members and our Legislators through stories. I heard great stories about exchange participants, but my favorite were about American staff who have already built long-lasting international friendships. At the heart of all the stories I heard is how fun it is to learn something new and how central that sort of learning is for everyone involved in the Summer Work Travel program!"
Feeling inspired to share your story with your representative? Check out the Greenheart Club's advocacy resources for tips on effective story-telling and writing a letter to your representative!