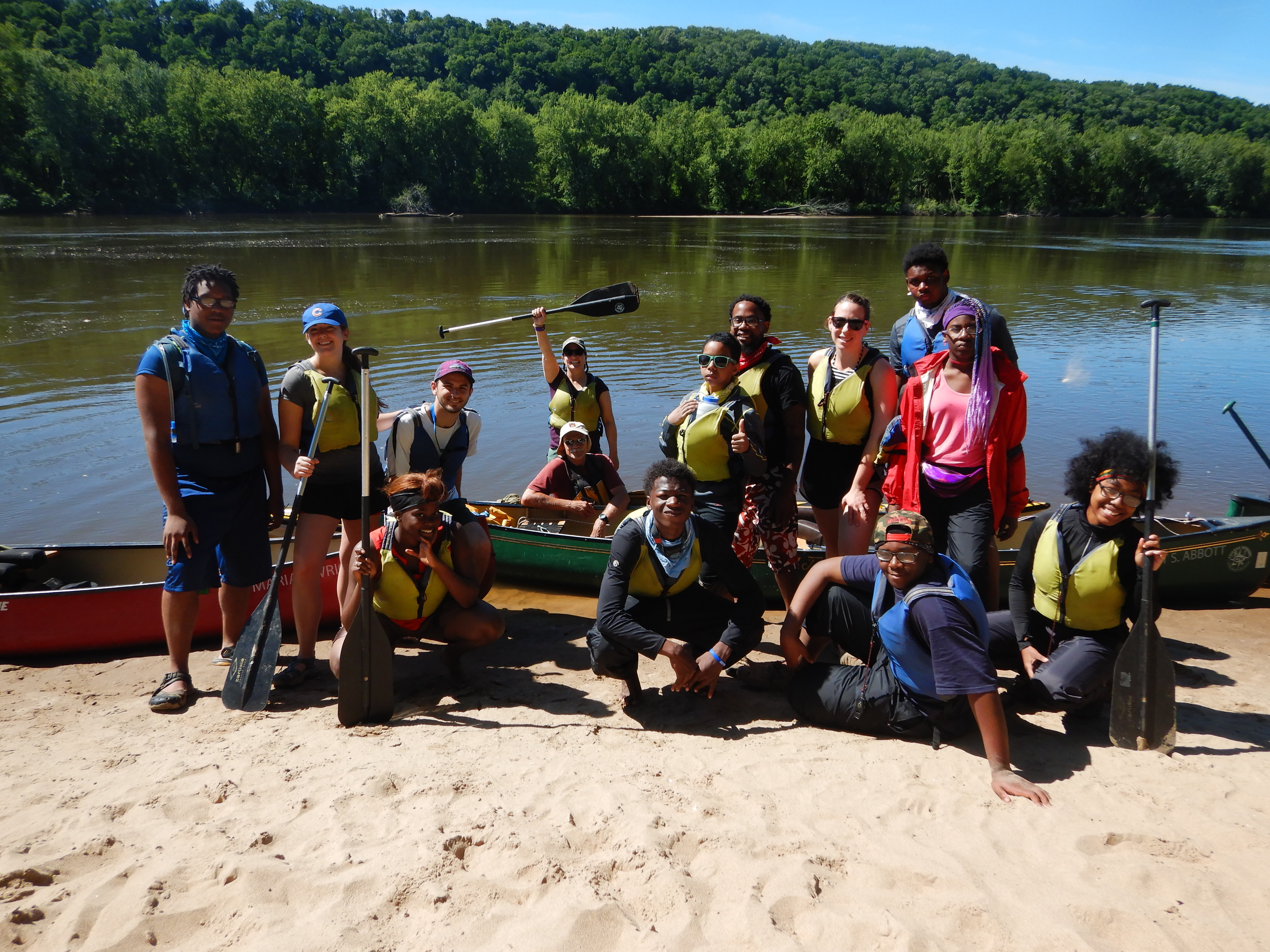 Our staff members just returned from the first Camp Greenheart experience of the summer! We are excited to announce our official partnership with Chicago Voyagers, a local nonprofit committed to empowering youth through outdoor experiential adventures that foster healthy relationships and responsible behavior.
Foundations College Prep students joined us for four days of Wisconsin River canoeing, stargazing, and camping along the river beaches. Our Greenheart staff members, and camp counselors, pitched up their tents and paddled alongside our campers. Read on to meet them and hear about their favorite great outdoor memories from the past and the new ones they created at camp!
You can find a full photo album of Camp Greenheart fun on our Facebook page.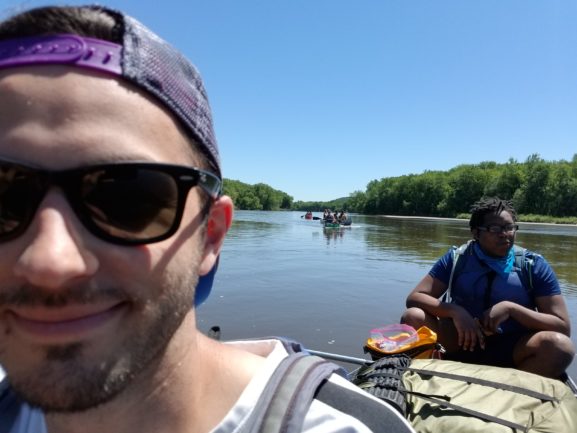 Brian Craig
Work and Travel Partner Relations Coordinator
Greenheart Exchange
Starting at a young age, Brian has greatly enjoyed romping through the woods and the rejuvenating effects it has brought to his life.
"One of my favorite experiences was hiking and camping along the majestic shores of Lake Superior at Rocks National Lakeshore last September," says Brian. "My love of the outdoors can be summed up through a quotation found in the park's trail guide: 'In wilderness people can sense being a part of the whole community of life on Earth. Preserving wilderness shows restraint and humility and benefits generations that follow us.'
My favorite Camp Greenheart moment was watching the kids go from 0 to 100 when they started (safely) dancing around the fire!"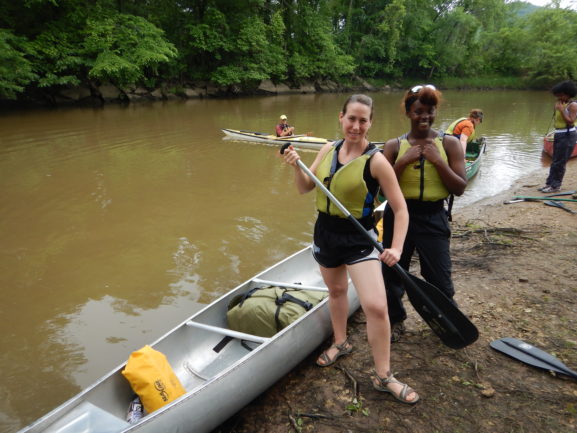 Allison Yates
Program Coordinator (Short-Term & High School Abroad Programs)
Greenheart Travel
"During the summer of 2015 I walked almost 500 kilometers on the Spanish pilgrimage route, the Camino de Santiago, known in English as St. James's Way," says Allison. "Though I slept in hostels called albergues, I loved spending all day outdoors, hiking up to 30km/day through plains, cow fields, around mountains, tiny villages, and even sometimes alongside the highway. While at first it was almost painful to be alone with my thoughts (and blisters!), I found the three weeks of walking was one of the most valuable experiences to learn about myself.
My favorite camp memory was racing during the final stretch of the river trip. We could see the finish line (or rather, the boat dock), and as soon as students realized they had almost met their hard-earned goal, they got a sudden burst of energy and were cheering each other on (or competing in a friendly way) and singing and yelling until they finally reached the shore. They really showed their strength and determination during the whole trip, but especially during those last few minutes. The sense of accomplishment and relief at the end of the trip was amazing, and I knew they felt so proud of themselves."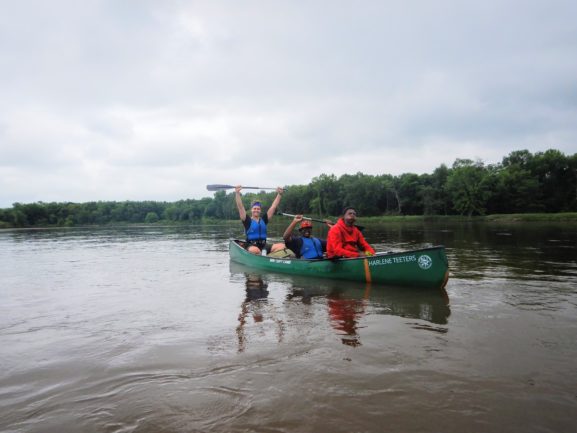 Chase Chisholm
Senior Marketing Coordinator
Greenheart Travel
"One of the first times I traveled away from home was in high school. I went to Grand Teton National Park with a group," says Chase. "Seeing such massive mountains for the first time was a surreal experience for the small-town Iowa teen I was. After I returned from that trip I felt as though the mountains were beckoning me – pulling me to return. It was a powerful feeling, something I'd later learn to be fernweh; a German word with no equivalent in English. It means 'farsickness' or an ache for distant places.
My favorite moment from last week's canoe trip on the Wisconsin River was with one of the students. He stood out to me from the very beginning, and I got to know him more as we paddled together in the same canoe. One evening we were looking at the stars while getting ready for bed. He mentioned all he could see were large circles of light. I told him to try on my glasses, thinking they wouldn't really help. But, to our surprise he could see the stars clearly! He got really excited and began to list off many of the constellations and talk about his interest in astronomy. A fellow  facilitator and I got to share in this special moment together, a memory I'll never forget. I've thought a lot about that night since. He and I come from such different backgrounds, and we see the world very differently because of this. However, when given the chance to view the nighttime sky through the same lenses, we both see something truly spectacular. Throughout the week I enjoyed catching him wander off on his own to enjoy the surroundings. The students who went on this canoe trip rarely, if ever, get to experience what it's like outside of the city. Thank you, Greenheart, for providing these opportunities for all of us."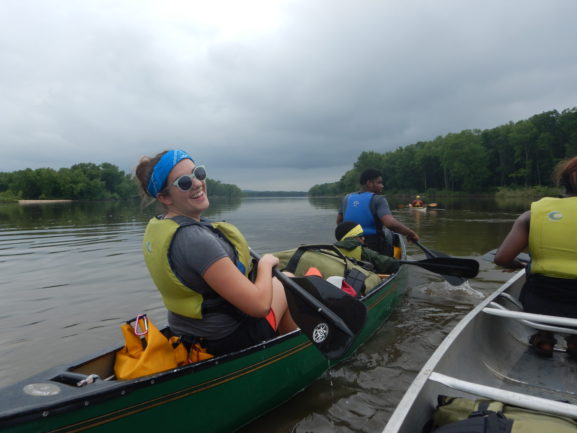 Nicole McCarthy
Service Learning and Outreach Manager
Greenheart International
"Whenever I think of spending time outside, I think of my dad. He always encouraged my sister and I to get outside and explore nature," says Nicole. "We'd go boating and fishing as young girls when we lived in Minnesota and catching giant Northern Pike is one of my favorite memories of growing up. Most recently, the three of us hiked the Inca Trail up to Machu Picchu! Five days, four nights, no showers, and endless laughs. It was probably the most physically challenging experience of my life- but so worth it!
My favorite Camp Greenheart memory was when we all started singing while canoeing down the river. We sang everything from Disney songs to Whitney Houston to 'Row, row, row your boat.' It was great to see the kids open up and have some fun!"
Join us on our Camp Greenheart adventure by following us on Facebook and Instagram for updates throughout the summer!