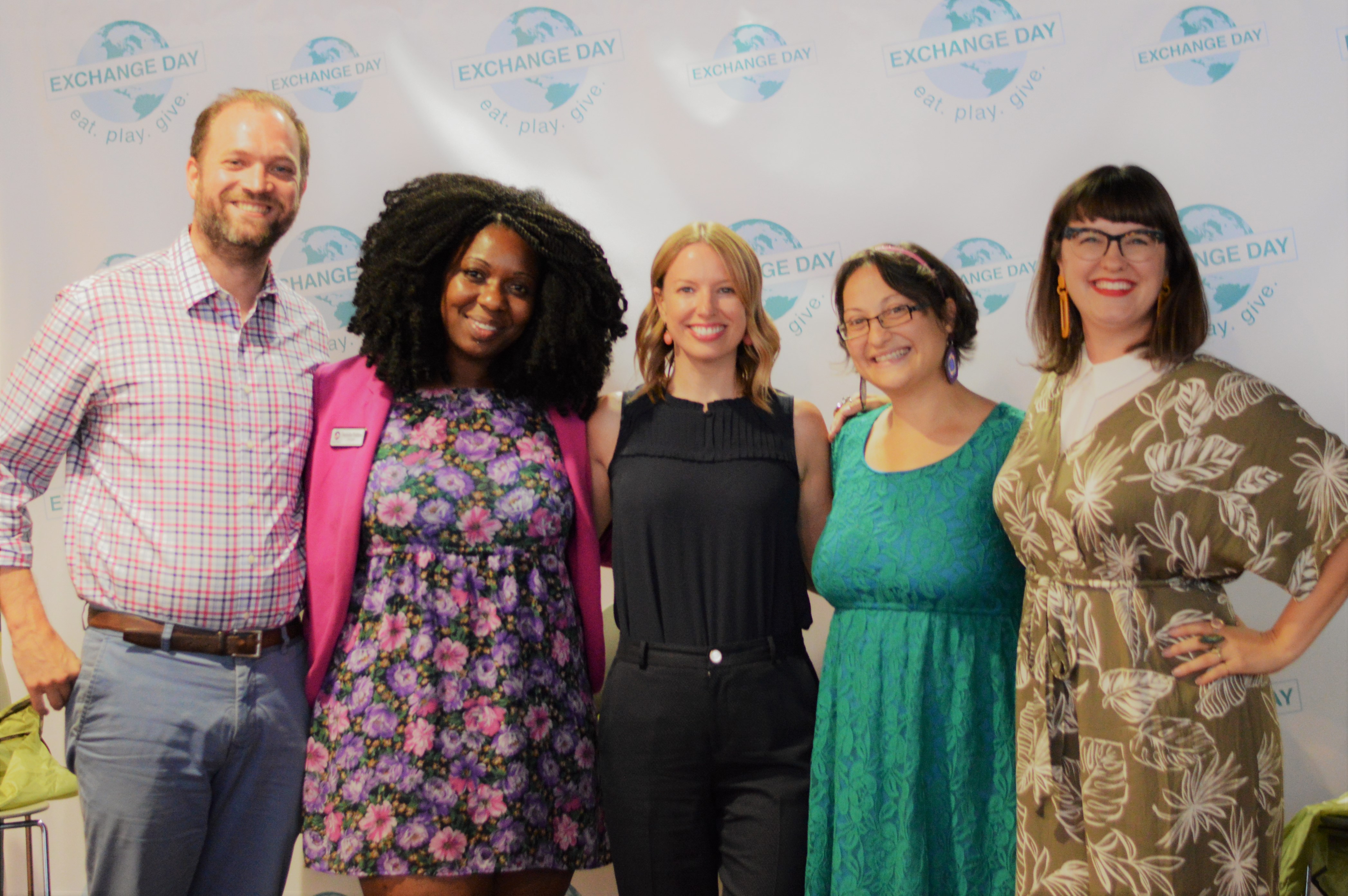 By: Bonnie Washick and Kathryn Conley
Exchange Day has come and gone, but the impact of cultural exchange continues to reverberate. In Chicago, Greenheart collaborated with Hosteling International USA and WorldChicago on an event featuring a world-traveled panel discussion, a clothing exchange and donation, live Brazilian Bossa Nova music, hors d'oeuvres, and drinks courtesy of Kinslahger. Big thanks to everyone who attended our sold-out event and, as one panelist said, joined us to "celebrate breaking down barriers."
Those who live far away or were unable to join us this year can read on for some key takeaways from Exchange Day.
Tips for Getting the Most from Cultural Exchange and Exchange Day
Panelist Natalie Felton of Peace Corps offered a great tip for anyone preparing to travel: Do your research! For Natalie, tapping into her personal network helped as she was able to connect with people who had been to the same place she was heading as a Peace Corps volunteer.
Even so, there will always be something for which you're not entirely prepared. Panelist Jennifer Gove drove this point home. "No matter how much I've traveled… there's always a little bit of fear to go and meet new people. I think that's so human and normal. Getting out of my comfort zone is such a huge part of what I need to do or what everybody needs to do in life. So today [Exchange Day], it's just about getting out there and meeting people, learning other people's stories, sharing my own stories, and just walking away a better person for that."
Jennifer is Director of Culture and Talent at Swissôtel Chicago, which partners with Greenheart to host several exchange visitors through the U.S. State Department's Summer Work Travel program.
Why Seek Out Cultural Exchange?
Andre, a Romanian Summer Work Travel (SWT) exchange visitor who works as a beach attendant with Boucher Brothers spoke of the impact the SWT program is already having. "My English got better each day speaking with the guests." He added, "What I really learned and why I enjoy [about the SWT program] is that the people are more open here in America… they just walk [up] to you and speak with you and say, 'how are you?'…"
Encountering different cultural norms is something that struck panelist Brian Peckrill, too. Reflecting on his first experience with cultural exchange he said, "It made me see the world from a different angle and it fundamentally changed the path of my career." Today, Brian helps bring people from around the world to Chicago for short-term professional exchanges through the State Department's International Visitor Leadership Program.
Panelist Cara Miller Brytan, a Fulbright alumna, similarly saw her career shaped by cultural exchange. She now supports DePaul University students who study abroad.
What does Exchange Day mean to you and how did you celebrate? Let us know in the comments!