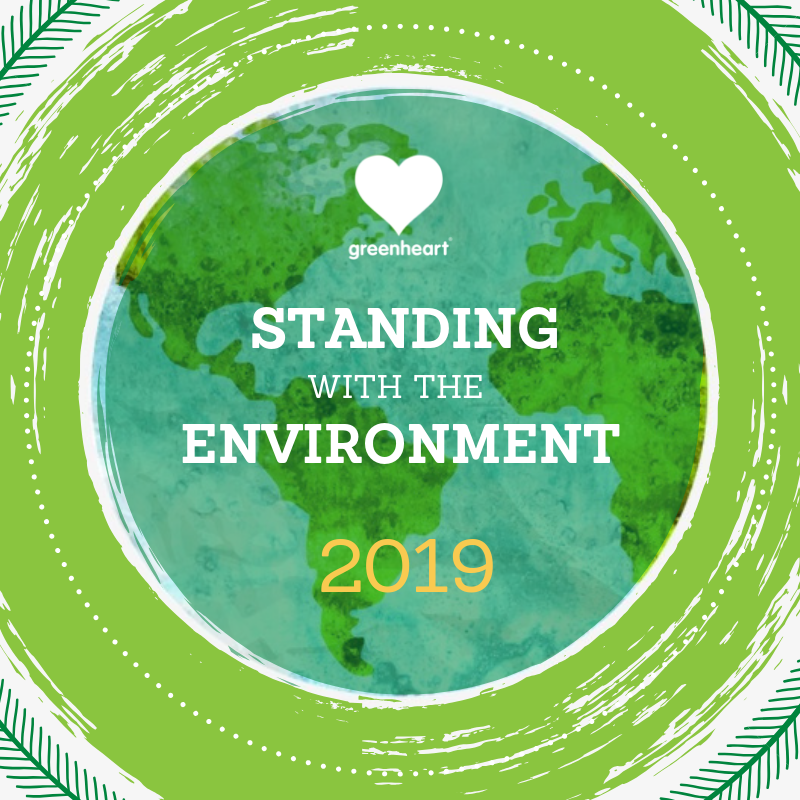 A new year at Greenheart calls for a transformation of harnessed energy, a new focus and a direct approach at making a difference. This means that each year we progress in our core values, in serving our community and creating a substantial impact with our audience and our world. Our official theme of 2019 is Standing With the Environment.
What does this mean for you?
As our Greenheart Sustainability Team leader, Maggie Dziubek explains, "Greenheart International's 2019 theme, 'Standing with the Environment' is an opportunity for all members of the Greenheart family to seriously consider our role within the natural world as individuals, as an organization, and as a larger community. Greenheart chose this theme as a response to recent reports from the United Nations regarding the impending dire impact of climate change," says Maggie. "The reality of these reports can be sobering, but within this context Greenheart sees an opportunity to play to our strengths to become active participants in forward-thinking solutions to environmental challenges."
Maggie continues, "Greenheart's mission has long been to connect people and planet. We live out this mission every day by facilitating cross-cultural experiences, participating in fair trade practices, and building a community of culturally competent global leaders. Greenheart's expertise lies in bringing diverse groups of people together to create space for deep connection, mutual respect, and increased understanding," she explains. "In 2019, Greenheart is recommitting to the idea that within this space of cultural exchange there is a unique opportunity to connect as a global community to confront our shared responsibility for caring for our planet and responding to the global challenge of climate change. "
What to look out for:
Each month, our Greenheart International social media platforms will house a safe space to speak openly about these environmental trends. We offer individual spotlights throughout the year from our own staff members to touch on their unique inspirational topics involving our Greenheart theme of 2019. We hope for you to join us with some of your own inspirational insight and feel motivated to take a stand for yourself and our planet.
We give out a warm welcome to our Greenheart family in 2019 as we stand together! Visit us on Facebook and Instagram for all the latest updates throughout this new year.