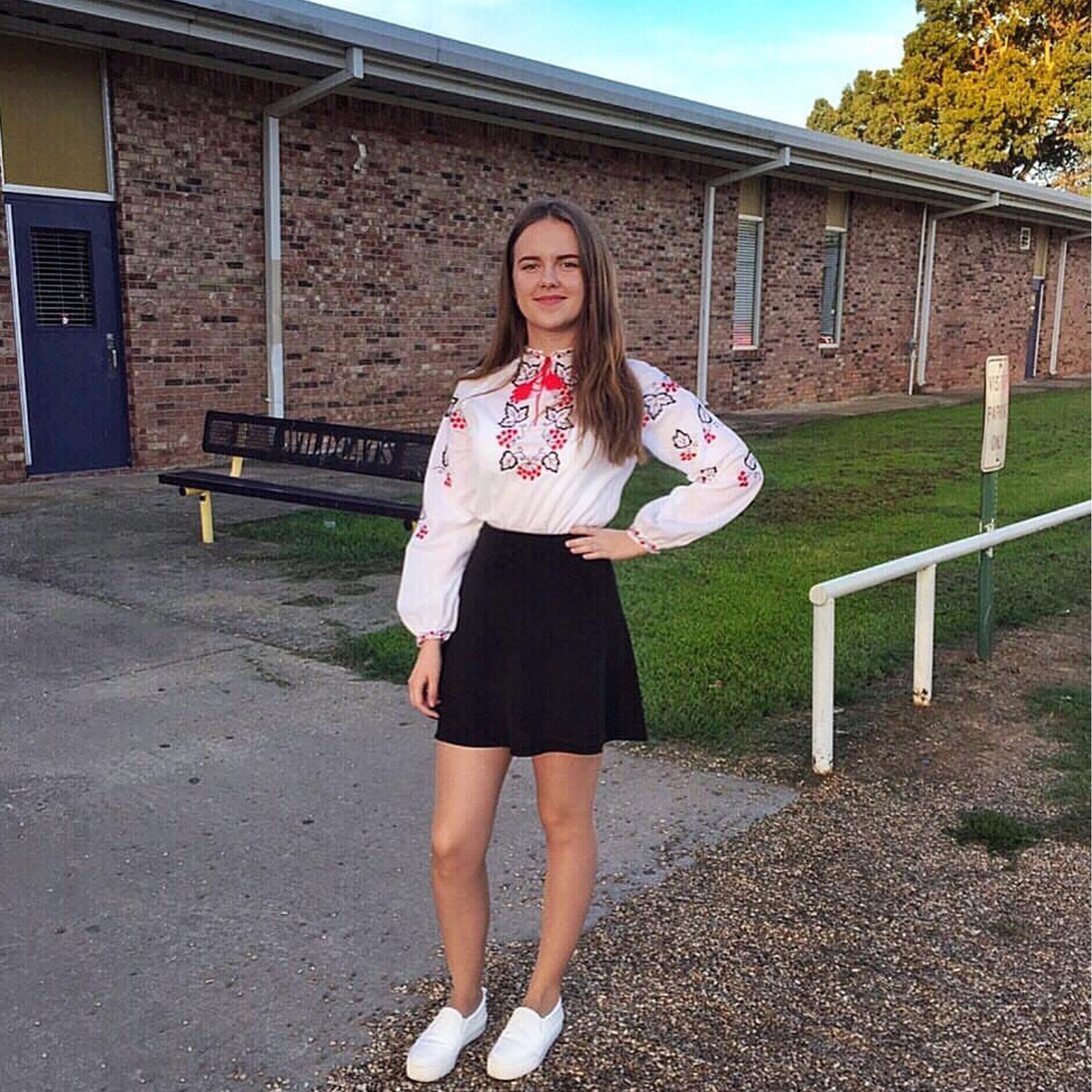 Next week, we will be welcoming eight incredible Greenheart participants from all over the world to Chicago for the Jr. Greenheart Global Leaders Conference! They are gearing up to spend four days exploring global leadership through social and environmental service, cultural exchange, and international advocacy. Want to get to know our scholarship recipients? Read below about how exchange has shaped their path towards leadership.
Anzhelika (Angie) Avramych
Pereiaslav-Khmelnytskyi, Ukraine
16 years old
Anzhelika is a J-1 High School Program participant studying in Wister, Oklahoma on a FLEX scholarship.
"During my exchange year I got to live with my awesome host family and spend time with our relatives, who all became my second family. I met so many people, made friends with other exchange students, traveled to some other states and experienced American holidays, which I celebrated for the first time in my life! Also I got an opportunity to talk on TV and of course volunteer a lot. Most times, I helped little children with learning letters, numbers, and reading. I gave some presentations about Ukraine to students at school as well. Being an exchange student brings so much experience, happiness and fun to my life! Thanks FLEX Program and CCI Greenheart for this opportunity."

Wanyan (Anna) Song
Dongguan, China
18 years old
Anna is a J-1 High School Program participant studying in Riner, Virginia.
"I have been in America for about 8 months as an exchange student. I really enjoy the life here and having fun with the kittens I have worked with. They are such cuties and I just love them. Being with those adorable little things has taught me so much and the most important part I learned is patience and kindness. Having a loving heart can always make the world a better place! I am very excited and grateful for this exchange opportunity!"

Blythe Gilroy
North Carolina, USA
16 years old
Blythe is a Greenheart Travel participant that spent a semester studying abroad in Spain and spent three weeks volunteering at an animal rescue center in Costa Rica.
"I grew up traveling around the world and love learning about and meeting people from different cultures. I understand that life goes by fast and it is important to find simple pleasures, to bring a smile to the faces of others, and to count your blessings along the way. My exchange and volunteer experience shaped the person I am today."
Dakota (Duke) Takeno
Oahu, Hawaii
16 years old
Duke is a Greenheart Travel participant that studied abroad in Japan for three weeks.
"I feel that it's important to travel to a new place and learn a new language because it really widens people's perspective of the world. A lot of people want to explore space or the bottom of the ocean. However, I really want to explore new places and learn about their unique and different culture as well as their language and to be able to share my experience with my family and friends."
Emma Pfundstein
Munich, Germany
16 years old
Emma is a F-1 High School Program participant studying in Morro Bay, California.
"I love playing field hockey, skiing and photography and I am happy to be chosen for this awesome opportunity to tell more people about the great volunteering experience I had, and about my cultural exchange as well."
Riccardo (Ricky) Suella
Uta, Italy
17 years old
Riccardo is a J-1 High School Program participant studying in Ramsey, Indiana.
"I am someone who is always optimistic and I always try to see the glass half full rather than half empty. In Italy I am a national basketball referee. As a good Italian I love to cook. My dream since I was 7 is to become a doctor, precisely an oncologist, because my grandfather became ill by cancer and only a really good oncologist saved his life. Since I have been here I loved this place, everyone has been friendly to me, everyone wanted to talk and ask me questions, and I love it. I love to be helpful to others. The best volunteering I could do since I want to be a doctor was work at the hospital. I work every weekend at the ER in my County Hospital. I met a lot of doctors that can teach me a lesson for my life or for work. I think that everybody should volunteer, it helps you to have a different perspective of people and of the world."
Mieczysław (Mitch) Siciński
Warsaw, Poland
17 years old
Mieczysław is a F-1 High School Program participant studying in Land O Lakes, Florida.
"My hobby is learning about new cultures and experiencing many adventures. It's my first time doing an exchange program and I have to say that I just love it. I was doing a lot of interesting things here like cleaning the beach or helping in the school theater. I was a participant of the CCI Greenheart Hawaii trip. There I met so many people from other countries who share my passions. I'm really excited to see Chicago and learn new things about global leadership."

Fatema Mazher
Karachi, Pakistan
17 year old
Fatema is a J-1 High School Program participant studying in Faribault, Minnesota on a YES scholarship.
"The person I am now is an absolutely different person from the one that departed Pakistan on the 5th of September 2016. I've been a part of my town's rugby team and I also swam on my school's varsity swimming team. I volunteer at my town's adult education center as a teacher's assistant in English as a Second Language classes. I also help at Feed My Starving Children, at our church and school with different activities by staying extra hours. I am also in my school's percussion band and theater troupe. I just got done with a very successful musical, Joseph and the Technicolor Dreamcoat. I also got chosen as student of the month for April for my English classes. I recently came back from a Civic Education Workshop that every year the American Councils invites 100 exchange students to, and I also got to visit Florida over spring break. All I can really say is that I am extremely grateful for these opportunities and experiences and very honored to be a part of a beautiful alumni community of Youth Ambassadors like me."
Stay tuned on our blog and Greenheart social media channels to see photos and read stories about their Chicago adventures!